By Melissa Blackmon Kohout, The master gardeners of Orange County
There is just something special about the simple pleasures of summer in North Carolina. Who doesn't love a clear Carolina blue sky or the joy of pretty flowers with butterflies coming and going? Why not add growing your own summer flowers to your list of simple pleasures? You can plant a few flowers in a pot for your patio, plant a small bed near your mailbox, or add plants to an existing bed. The possibilities are limitless!
The sun-loving flowers discussed in this article do well in our hot and humid (sometimes dry) conditions in Piedmont. As long as you pamper your seeds or potted plants a bit for the first few weeks after planting, things should be fine.
If you are planting from seeds, carefully read the packages for instructions (save these too, so you know when the seeds are supposed to grow) and water the soil well right after planting. Remember to water the seeds every few days until the seedlings emerge. The same rules apply for plants purchased from nurseries or garden centers: water well right after planting, then every few days for about two weeks. After that, your established seedlings or plants need about 1 inch of water per week, whether through rain or watering.
If you are using a pot for your flowers, choose at least a 10×10 inch pot with plenty of drainage holes and fill it with potting soil designed for pots (not garden soil). Do not put gravel on the bottom of the pot – the gravel will not help drainage and may cause water to build up at the bottom, leading to root rot.
All of the selections below love sun and well-drained soil; plant them in a weed-free area that receives at least 6 hours of full sun a day where water does not pool after a rain. None of these plants like soggy roots. With our Piedmont clay soil, it's a good idea to mix 3-4 inches of compost in the planting area. Remember to add 2 to 3 inches of mulch on top of the garden; mulch will help your plants moderate temperature and retain moisture, as well as weed control. There are various organic mulches you can buy, but I like to use chemical-free shredded leaves kept in my garden.
For more information on soil tests, basic planting, mulches, and flower blooming times, visit the Orange County Extension Master Gardener website, The gardener of oranges. The website includes links to 2 inspiring demonstration gardens in Hillsborough: the Courthouse garden, a flowering rainwater demonstration garden (with an interactive map on the web page to identify the plants), and the Gold Park Pollinator Demonstration Garden. Visit both gardens for great ideas!
Other gardens in the area with pollinator-friendly flowers that grow well in Piedmont include the Pollinator paradise demonstration garden at Chatham Mills in Pittsboro (the website includes photos and information on all the plants grown there), the North Carolina Botanical Garden in Chapel Hill, Duke's Gardens in Durham and the JC Raulston Arboretum in Raleigh.
Fast-growing annuals favored by pollinators
There are many varieties and cultivars of Zinnia (Zinnia) with wide ranges of colors and heights from 8 inches to 4 feet. Zinnia is best grown from seed, which germinates quickly, but it can also be grown from transplants. Resistant to deer, rabbits, heat, humidity and drought, Zinnia is susceptible to powdery mildew, so leave a space between the plants for air circulation. The hummingbirds will drink the nectar; and songbirds will appreciate the seeds of dead flowers left on the stems after flowering. Good varieties for containers include 2 disease resistant dwarf hybrids, "Profusion Fire" and "Profusion Coral Pink".
Full size Common sunflower (Helianthus annuus) should be grown from seed, not in a pot – height ranges from 18 inches to 10 feet tall! "Lemon Queen" is an easy-to-grow pollinator favorite. A dwarf cultivar, such as "Elves Blend" (16 to 24 inches tall), is a better option for a container. The common sunflower is resistant to deer, drought and poor soils. If left on the stems, mature seeds are edible for humans, livestock, and songbirds. The petals are edible too!
Mexican sunflower (Tithonia rotundifolia) is also best grown from seeds, which germinate quickly. The bright orange flowers are up to 3 inches in diameter and attract hummingbirds and songbirds. This plant, resistant to deer, drought, heat, neglect and dry soil, grows 3 to 6 feet tall.
Perennials native to North Carolina that attract pollinators and return year after year
Black eyed susan (Rudbeckia fulgida) might not flower the first season if grown from seed, so be patient. Varieties such as "Goldstrum" can be purchased as seeds or transplants. The plants grow 2 to 3 feet tall with yellow flowers all summer. Self-Seeding Black-Eyed Susan is resistant to deer, pollution, dry soils and drought. Leave dead flowers on the stems for your songbirds.
Grown from seeds, Eastern Purple Echinacea (scientific name: Echinacea purpurea) germinates in 10 to 12 days and flowers in approximately 60 to 90 days. This plant grows 3 to 4 feet tall with pinkish / purple flowers up to 3 inches and prefers moist, well-drained loamy soil (adaptable to other soil types). Eastern purple coneflower is the host of butterfly larvae and is resistant to deer, drought, dry soils, heat, humidity, poor soils, and even salt. It lasts a long time as a cut flower and self-seed.
Weed Butterfly (Tuberous Asclepias) is a species of milkweed that grows 18 to 30 inches tall with bright orange flowers. It is best planted from seeds, which will germinate in 20-30 days, although it may take a year to flower. While butterfly grass is a great plant for many garden locations (containers on patios, small spaces, walkways, meadows, and flower beds), it doesn't like to be moved once planted. Watch out for the beautiful yellow, white and black banded monarch caterpillars on your butterfly grass – it is a larval host for butterflies, including monarchs. Warning: be careful where you plant it; it is mildly toxic to humans, cats, dogs and horses.
Hope you have lots of simple fun this summer! All experienced gardeners were once new gardeners, so why not try growing your own flowers?
For more information on growing summer flowers, visit these resources:
We would love to see how your summer flowers and herbs (May 6, 2021 Playing in the Dirt) grow! Please share your photos on our Facebook page.
---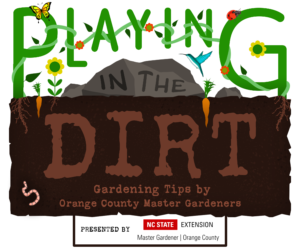 97.9 The Hill and Chapelboro.com have teamed up with Orange County Master Gardeners for "Playing in the Dirt," a monthly column exploring the fertile ground of home gardening in our community and intended to provide the information and inspiration that gardeners from all levels need to flourish! Check back to Chapelboro every month for a new topic – from our gardens to yours!
---
Chapelboro.com does not charge subscription fees. You can support local journalism and our mission to serve the community. Contribute today – every dollar counts.
Related
Source link